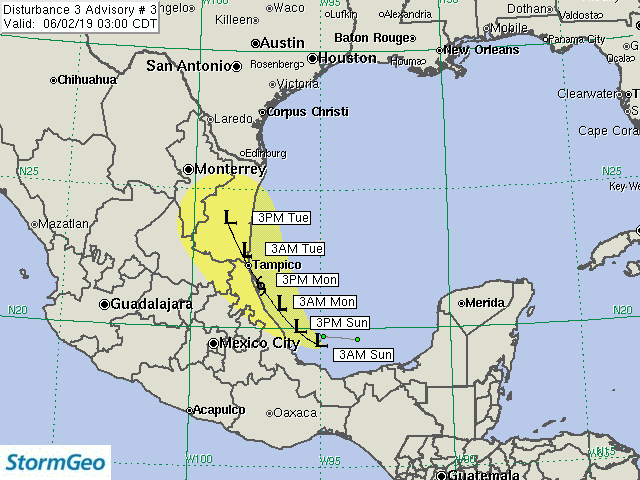 Current Location: 19.4N, 95.1W
Geographic Reference: 260 miles SE of Tampico, MX
Movement: West-northwest at 4 mph
Max Winds: 30 mph gusting to 35 mph
Current Hurricane Severity Index: 0 out of a possible 50 points (0 size, 0 intensity)
Max Predicted Hurricane Severity Index: 2 out of a possible 50 points (1 size, 1 intensity)
Current Radius of Tropical Storm-Force Winds: 0 miles
Max Predicted Radius of Tropical Storm-Force Winds: 35 miles
Organizational Trend: Steady
Forecast Confidence: Average
Chance of Development: 60 percent
Key Points
1. Regardless of development, the greatest threat to Mexico is flooding from heavy rainfall.
2. We expect Disturbance 3 to move into eastern Mexico on Monday afternoon and evening.
3. Strong wind shear will keep the threat very low for Texas. The only impact to Texas from the system will be enhanced moisture.
Our Forecast
Disturbance 3 has changed little in its organization over the past few hours. Squalls have redeveloped with the disturbance over the past few hours, but remain disorganized and are located well to the northeast and east of t he broad circulation center. The system will have a chance to develop into a tropical depression within the next 24 hours and could become a tropical storm before reaching the coast of Mexico near or just south of Tampico Monday afternoon or evening. After moving inland, rapid weakening is expected. In the unlikely event that the system were to remain offshore and move toward Texas, strong westerly wind shear would likely cause the system to dissipate before making landfall.
Disturbance 3 will move to the west-northwest today before turning to the northwest tonight into Monday. The northwest motion should continue until the system moves inland just to the south of Tampico, Mexico Monday afternoon or evening. Thereafter, the remnants of the system could move toward southern Texas.
Since the system is not forecast to be any more than a minimal tropical storm, the greatest threat will be flooding from heavy rainfall. This threat will occur regardless as to whether or not the system develops into a depression or a tropical storm. Some of the rainfall could move toward Texas later in the week.
Expected Impacts Onshore
Northeast Mexico – Tampico Area: Isolated power outages may occur due to strong winds. Widespread street flooding is expected. Some flood damage may occur, especially in areas that experience mudslides.
Expected Impacts Offshore
Bay of Campeche to Offshore Tampico, MX: Scattered squalls will produce wind gusts up to 50 mph and locally rough seas.
Our next advisory will be issued by 9 AM CDT.
Meteorologist: Claude Aultman
Forecast Confidence:   Average

Hurricane Severity Index

Fcst Hour

Valid

Lat.

Lon.

Max Sustained Winds

Max Gusts

Category

Size

Intensity

Total

0

3AM CDT Sun Jun 02

19.40N

95.10W

30 mph

35 mph

Tropical Disturbance

0

0

0

12

3PM CDT Sun Jun 02

19.90N

95.90W

35 mph

45 mph

Tropical Disturbance

0

1

1

24

3AM CDT Mon Jun 03

20.60N

96.60W

35 mph

45 mph

Tropical Depression

0

1

1

36

3PM CDT Mon Jun 03

21.50N

97.30W

40 mph

50 mph

Tropical Storm

1

1

2

48

3AM CDT Tue Jun 04

22.50N

98.00W

35 mph

45 mph

Tropical Depression

0

1

1

60

3PM CDT Tue Jun 04

23.80N

98.70W

30 mph

35 mph

Remnant Low

0

0

0
The yellow cone represents track error from the previous five years. Over the past five tropical cyclone seasons, the center of the storm tracked within the yellow cone 75% of the time. The cone does not represent the forecast uncertainty in the current advisory for this storm. In addition, strong winds, very high tides, large waves, and heavy rainfall can often extend well outside the yellow cone.